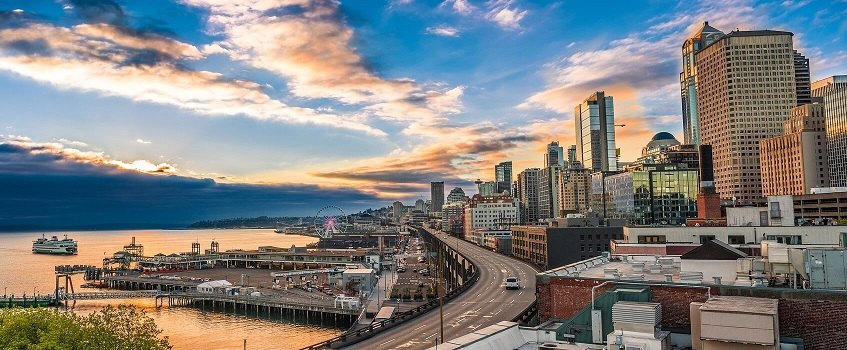 Seattle Auto Transport
Seattle Auto Transport Services
Seattle is consistently voted one of the best places to live in the United States. The city is beautiful, with mountains and water surrounding it, and there's always something to do – from outdoor activities to concerts and cultural events.
Why do people love Seattle?
The economy is strong in Seattle, with a high concentration of technology companies and plenty of job opportunities. The cost of living is high, but it's worth it to be able to live in such a vibrant city. And finally, Seattle is known for its friendly people and welcoming community. It's no surprise that people are constantly going in and out of this great state and therefore looking for Seattle auto transport companies for their Seattle car shipping needs.
Whether moving to Seattle, WA, permanently or planning an extended stay, it's always more convenient and less costly to have your mode of transportation. To most people's surprise, having an auto transport company move the vehicle is less expensive than driving it yourself. The gas, the added miles to your vehicle, exposing your car to the road where it's more susceptible to the possibility of damage/accident, and in addition, the wasted time spent on the road and the cost of road stops are just a few of the expenses you should keep in mind if you plan on transporting your vehicle. Most need to realize how quickly all of this can add up. We offer competitive pricing for any of your Seattle auto transport needs, no matter what you are moving and or where you are moving from.
What you need to know for Seattle car shipping
We only work with the highest-rated carriers with experience with the routes in and out of Seattle. We transport cars all over the country and work with industry. Our in-house tools allow us to partner you with the most reliable Seattle auto carrier within minutes at the best rate available. You only need to provide your car details and the pickup and delivery address; we will handle the rest!
Providing our customers with a broad range of options is one of the many reasons people love working with us. Whether it's door-to-door service, terminal-to-terminal, or port-to-port, we can give you the best option after only a few questions. Your trust is among our most important things, so transparency is a priority here. Our professional agents are always available to answer any questions and let you know where your vehicle is until it's delivered.
Pricing for Seattle Auto Transport
It can cost anywhere from a few hundred dollars to over a thousand, depending on the size and weight of your car, the distance it needs to travel, and the type of shipping service you choose. Depending on the shipping option you choose, it will also affect the pricing of the shipment. For example, door-to-door service is typically more expensive than dropping off and picking up from a terminal.
The same goes for vehicle type; a sedan is known to be less expensive than a truck. We provide as much information and options as possible because you can make the best choice with your agent—no need to pay for additional services you don't need.
How long does Seattle auto transport take?
It varies depending on whether you need an exact delivery date or are flexible. Typically Seattle auto transport takes about 2-14 days to ship a car to or from Seattle.
A few things affect the timeline, such as the type of car being shipped, the time of year, and your chosen auto carrier option. For example, winter is generally slower for auto transport due to weather conditions, meaning fewer carriers may be available. Weather conditions can subsequently force drivers to take longer but safer routes.
Seattle auto carrier options:
Open carrier auto transport –
Open carrier transport is one of the most popular auto carriers for Seattle auto shipping. Due to its availability and low cost, it's the perfect option for most vehicles. With this choice, your car is loaded onto an open trailer hauler, which usually fits about 7-10 cars. The disadvantage is although it's rare, there is no guarantee your car won't get scratched, or a windshield/window won't get cracked during the transport. Furthermore, your car will also be exposed throughout the entire shipping process, regardless of the weather.
Yet, the reason behind the popularity of this option is quite simple. Because it's no different than when you are driving on the road yourself. The risks are lowered in the open carrier vs. driving on the road since the trailer has beams to deflect any flying objects. In addition, there are also extra precautions you can take, such as being loaded at the top of the haul for a small additional fee. If safety is your biggest concern, but you are on a budget, we have unique options.
Enclosed carrier auto transport –
The enclosed carrier is perfect for transporting a luxury, exotic, or classic car! Guaranteed protection is the #1 advantage of choosing an enclosed carrier transporter. Your vehicle is loaded into a closed container and will be covered and protected during the entire transport, shielding your car from any outside element. On the other hand, if you are not flexible with the pickup/delivery dates and are on a budget, you might find it challenging to find an enclosed carrier that will suit your needs. Unfortunately, this option is a little more expensive and less available.
This is why we work with carriers that both have open and closed trailers as an option, making it easy to find a carrier that will fit exactly what you need.
Brookwide Inc for your Seattle Auto Transport needs
Regardless if you are going in or out of Seattle, WA, we will move any car you have to any place you need nationwide. Our reputation is significant to us, so we only work with the most professional agents in the industry, and top-rated carriers, guaranteeing a smooth experience for you.
Here at Brookwide Inc, we understand that people only sometimes do auto transport. This is why our agents will be with you from the beginning till the end. Unlike other auto transport companies, we don't disappear after your car is dispatched. We will guide you, give you all the information to track your vehicle, and answer any questions or concerns you may have until you receive your car. For an easy auto transport experience, give us a call or fill out a free quote form today!